Paint Protection Film
Every day your car's exterior has to handle a lot from the outdoor elements and contaminates as you run your errands and travel on the freeway.
From dents and scratches to rock chips and bugs, bird droppings, and not forgetting the damage of fading paint the sun's UV rays cause.
These are problems your car's exterior handles every day.
Damage or lack of luster to your vehicle's paint will drop its resale value guaranteed.
So what can you do to protect your vehicle, I hear you ask?
Clear bra! Also known as paint protection film.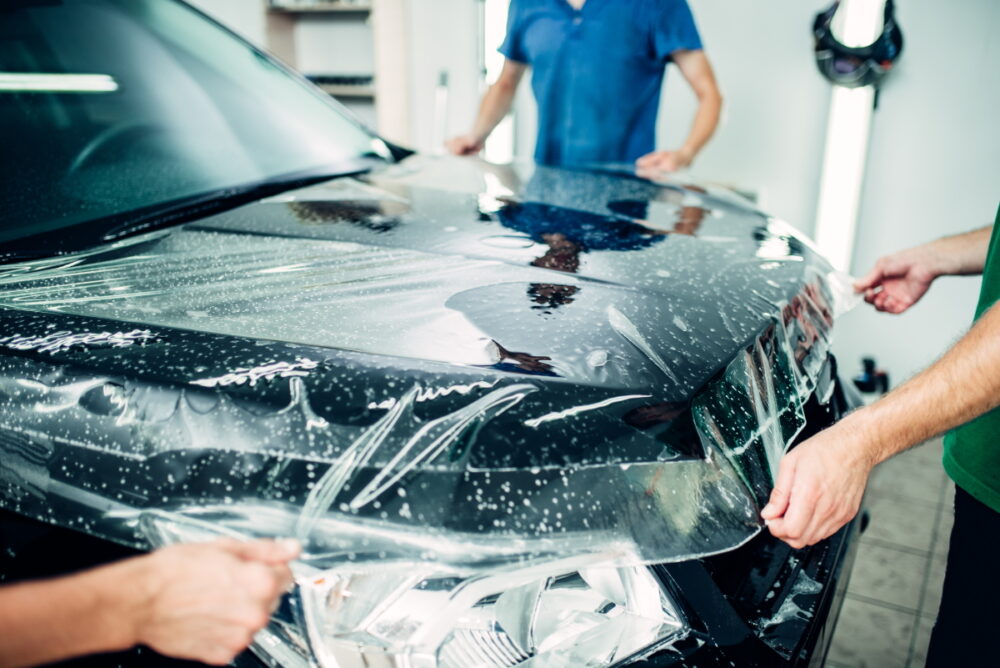 Paint protection film protects your vehicle's exterior paint, and the best part is it's hardly noticeable to the naked eye.
That means it will tirelessly protect your paint, even when you can't.
Please make sure you get it professionally installed to the high-impact, vulnerable areas of your vehicle.
Listed below is the comparison of XPEL Clear Bra and 3M Scotchgard film.
Quality Difference Between XPEL Clear Bra And 3M Scotchgard Paint Protection film.
First, I want to mention that XPEL and 3M Scotchgard are leading brands in the film industry regarding paint protection film.
And being two different brands, there are always going to be a few differences.
I want to highlight those differences so you can make a more educated decision yourself as to which one to chose to suit your needs.
Self-Healing Properties
Even though 3M patented 3M Window Film in 1966, they are the only manufacturer to produce their own polyesters, adhesives, metals, and scratch-resistant coating film, giving them quality control and product consistency other manufacturers can't match.
Then in 2011, XPEL revolutionized the industry with the world's first self-healing paint protection film. ULTIMATE PLUS ™ raises the bar once again with an exceptional high gloss finish and improved impact protection.
Even though 3M is practically the grandfather of the automotive paint protection film industry, XPEL is famed for taking the time to develop its products and manufacture the world's first self-healing film.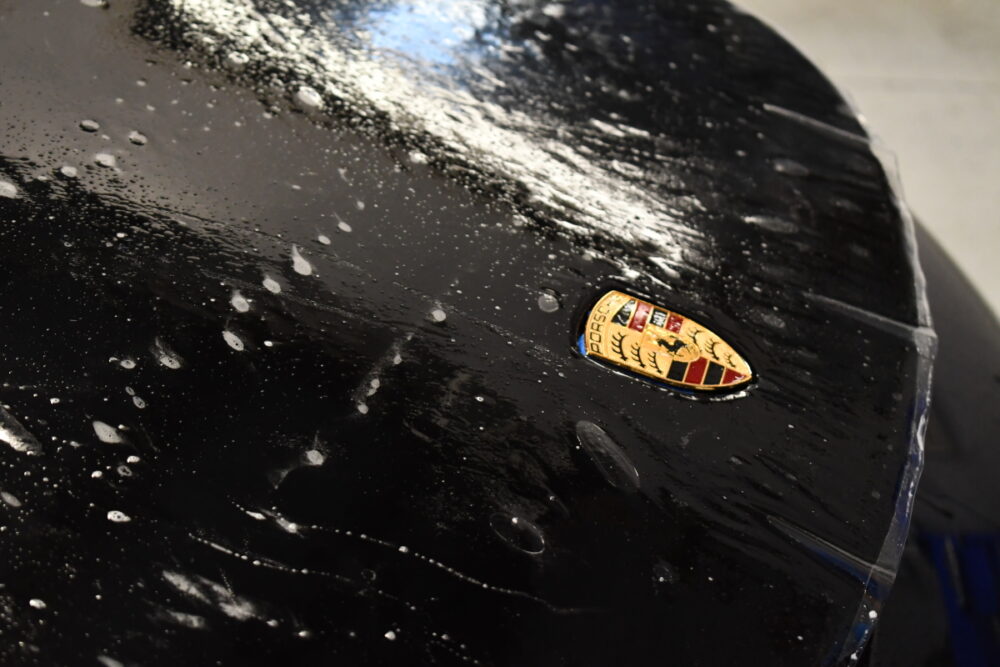 What is self-healing, and what does it mean?
Self-healing means you can take a swab of wet cloth and wipe the stain or the scratch right off. Alternatively, splash a cup of hot water on top of it and watch the remaining damage 'disappear.'
However, this isn't to say that 3M Scotchgard isn't impeccable. 3M Scotchgard™ Paint Protection Film Pro Series boasts a similar level of self-healing, but it's always going to be in second place regarding its development of the film.
Warranty
XPEL, Inc. expressly warrants to the owner that, for 10 years (the "Warranty Period") from the date of initial installation, the ULTIMATE PLUS & STEALTH (the "Product(s)") will cover defects such as yellowing, staining, cracking, blistering and delaminating. This Limited Warranty only applies to the Company's Products which are professionally installed in the manner recommended by the Company.
When installed by a 3M Certified Installer, Scotchgard™ Paint Protection Film Pro Series is backed by a 10-year warranty covering defects including yellowing, bubbling, and cracking.
Features
XPEL Ultimate Plus
• Heat Activated Self-Healing Topcoat Constructed from an elastomeric polyurethane, ULTIMATE PLUS will self-heal light scratches & swirl marks with a light heat application to the film's surface.
• Non-Yellowing Our proprietary film formulation will not yellow from UV exposure, ensuring protected areas are nearly invisible.
• Discoloration & Stain Resistant Don't worry about specs, spots, or splotches from contaminants. ULTIMATE PLUS is stain resistant & will maintain clarity under the harshest conditions.
• Prevents Wear & Tear Stop rock chips, nicks & scratches in the paint, and keep your vehicle looking as good as the day it rolled off the lot.
• Edge Seal Technology Lifting & delamination are a thing of the past. Our signature Edge Seal Technology ensures film stays stuck & keeps surfaces protected from contaminants.
3M Scotchgard™ Paint Protection Film Pro Series
• Virtually invisible car paint protection film that does not alter the color or design features of cars.
• Protects vulnerable painted areas of the vehicle from scratches, chips, and stains.
• Self-healing technology allows minor scratches to disappear.
• Backed by a 10-year warranty.
• Exceptional clarity with good resistance to yellowing.
• Low orange peel provides optimal clarity, maintaining the original surface appearance.
• Easy to install, flexible film allows more efficient application by 3M Certified Installers.
• Tough, durable, and maintenance-free. Enhanced adhesive and clear coat performance ensure durable protection.
Paint Protection Film Other Names
Clear Bra Paint Protection Films have many names. In the northwestern part of the United States, Clear Bra is referred to as Clear Mask or Clear Wrap. In Canada, you may hear Clear Bra being called Stone Guard. No matter what you call it, the purpose is clear, Clear Bra Paint Protection Film protects your investment and preserves the integrity of your vehicle's exterior paint year after year.
When you want to maintain the clean, flawless look of a new paint job, get paint protection film from an experienced, trained, and certified PPF Installer to guarantee that your vehicle stays protected!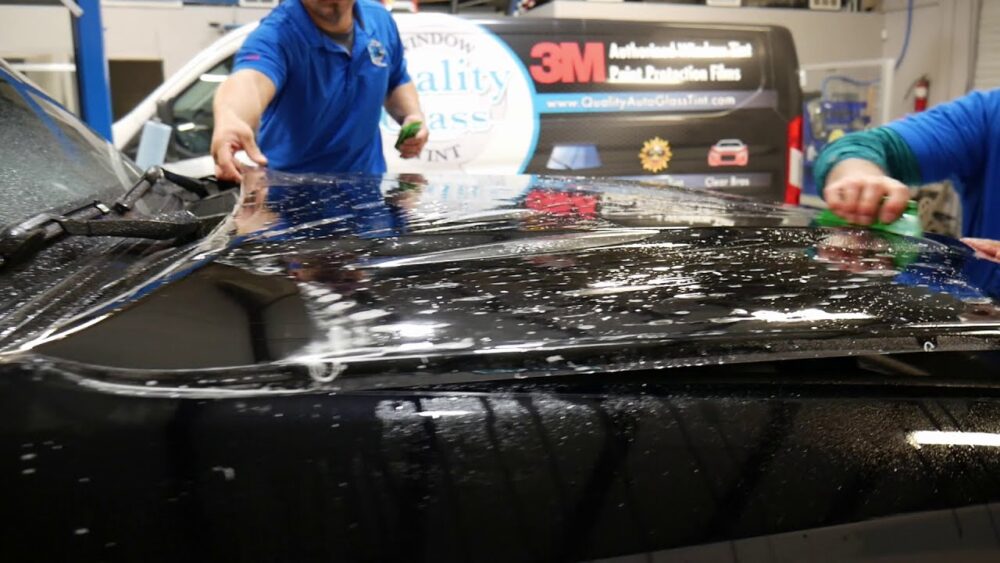 Final Thoughts on Quality Differences
What's In A Name?
Both films are crystal clear after a quality installation.
Both 3M Scotchgard and XPEL films retain their transparency very well. This means that if you get one of these films, you can be confident you will have a crystal clear finish that is not susceptible to premature discoloration.
3M, as we already stated, is the grandfather company to the entire automotive Paint Protection Film industry. 3M developed the whole technology for automotive Paint Protection Film in partnership with the US military during the Vietnam War. The military needed a lightweight way to protect helicopter blades from getting damaged. 3M developed the urethane film technology that evolved to protect NASCAR vehicles on the track and any consumer automobile.
So, 3M has been in this game the longest, and they have a good track record of creating a quality film.
3M Scotchgard paint protective film (PPF) has what you need in a quality Paint Protection Film: high-performance protection, invisible finish, and longevity. So if you go with 3M, you will get a quality film.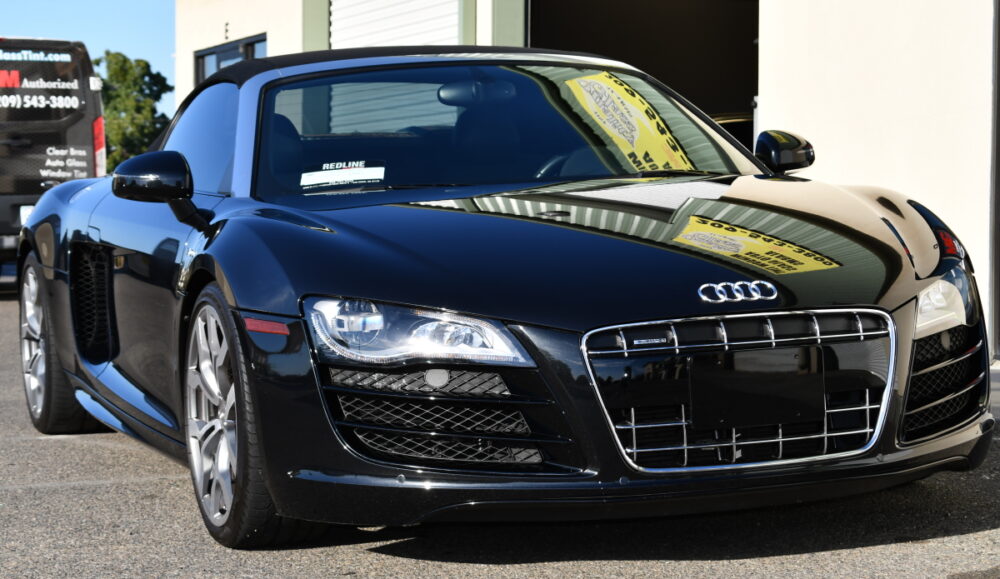 3 M has selected Quality Auto Glass & Tint in Roseville, CA, to be one of their exclusive window film installers.
Let Quality Auto Glass & Tint in Roseville put our 30+ years of experience to work for you.
We invite you to give us a call.
Or stop by our shop at: 9110 Fairway Dr, Roseville, CA 95678
We will be more than happy to answer any questions that you may have about 3M paint protection film installation.
We're located on the premises of the Fairway Car Wash in Roseville, CA. (link to map)
We also install 3M window film…
So, give us a call or stop by our shop and let's get to know each other.